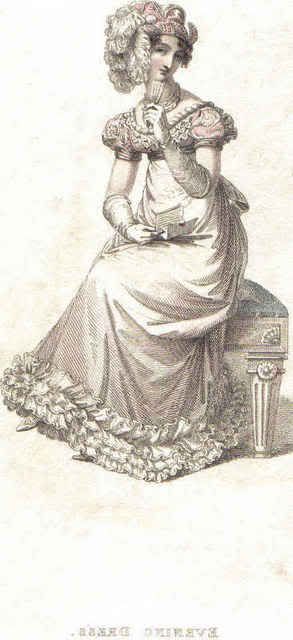 After all this discussion about man titty, clinch covers and what sells a book, I started looking through my collection of Ackermann fashion plates. It occurred to me that most of the ladies portrayed were very young and rather thin for their time, rather like the models in our current fashion magazines.

We know from many of the contemporary portraits that the ideal for Regency women was definitely plumper, rounder and softer. In complete contrast to today, being chubby meant you were wealthy enough to eat well and that was seen as beautiful. It's also interesting that most society painters tended to paint variations on the same round face, be-curled hair and rosebud mouth on their sitters, so it's still difficult to tell whether these portraits were simply meant to flatter or are a true representation of how people really were. Not everyone wanted to be remembered 'warts and all' like Oliver Cromwell.

Back to my picture. This one is simply entitled "Evening Dress' 1820 but it's so much more. A real touch of subliminal advertising. Yes, the dress is beautiful but look at what she is holding in her hand and the coy, considering expression on her face. To me, this fashion plate is saying 'buy this dress and you'll be having a secret assignation straight after the ball!' Or is she simply reading over her shopping list for Safeway the next day? Somehow I doubt it. I wish I knew more about the language of fans because I'm sure the way she holds her fan under her chin has something to add to the puzzle. All I know is that she's anticipating a good night! What do you think?