I love to buy calendars with famous paintings, and I often buy extras when they go on sale to use for "Art Appreciation" presentations at my son's school.


One of my favorite styles of art is the Japanese ukiyo-e woodblock prints of the late 19th century--these are the precursors to the movie and celebrity posters that often grace the walls of teen bedrooms...and Sports Illustrated swimsuit-types of photos that one finds more often than not behind the scenes in mechanic garages. In short, the portraits done in the ukiyo-e style were actors and actresses (mostly actors) in the kabuki theater--again, the celebrities of the day.

These were images that were easily affordable and thus available for the "common man" to purchase and hang in his/her home. Katsushi Hokusai was one of the most well-known ukiyo-e artists, and I know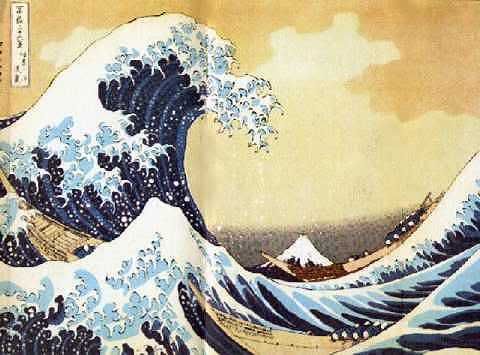 you've all seen some of his work, for he's famous for his Thirty Images of Mount Fuji.

However, he also did some shunga, or erotic, images in the woodblock print style, and I'll never forget the day in my collegiate History of Art class when this image popped up on the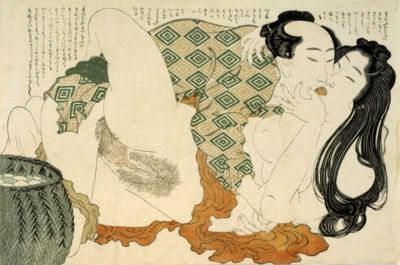 screen:

Yeah. Good thing the lights were turned low, 'cause I certainly wasn't expecting that!

The shunga images were often put in the infamous "pillow books" that were shared with courtesans and their customers. And well-to-do parents used the, er, shall we say, more conventional images as a sort of sex education tool for their children.

I rather doubt they'd be including this famous image by Hokusai, known as The Fisherman's Wife's Dream. It happens to be one of my favorites.