by Colette Gale


I love Webber's Phantom of the Opera. It's rich, it's lush, it's sensual and erotic...but Christine ends up with the wrong guy!

After watching the play and movie umpteen times, I decided to take matters into my own...er, hands (considering the to-die-for appeal of Gerard Butler in the movie, however, I must admit there were other things I would have liked to take. In hand.).

It was obvious to me, and to every other woman I've talked to, that the passion, the attachment, the sex between Christine and Erik (the Phantom) is beyond belief--and how she could throw it away just because he has to hide half his face is beyond me!

(Well, okay, he might have accidentally killed a few people...but that was in a different version of the story. Definitely not mine.)

Plus, I couldn't stop wondering what actually happened during the "Music of the Night" scene. I mean, that bed!--not to mention the way Erik's hands were all over her body while he was seducing her with song. But, alas, it was a family production (or at least PG-13), so Webber had to close the door on that scene...

...but that didn't mean I had to leave it shut when I wrote my version.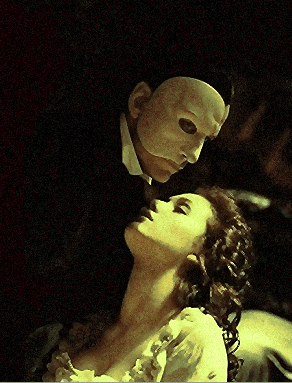 So, by way of introduction (since this is supposed to be an introductory blog post, according to dear Jane Lockwood, the woman who really wields the whip around here--and quite handily, might I add), let me just say that, come August 2007, you'll be able to read my extremely hot, quite dirty version of The Phantom of the Opera...and, believe me, I leave nothing to the imagination. Even Madame Giry and the two managers get in on the act!

The book is titled Unmasqued: An Erotic Novel of the Phantom of the Opera, and it will be published by Signet Eclipse.

As for me? Well, you'll get to know me a little better once I have my website up (in progress), and after a few posts here on Spiced Tea Party.

(Blog posts, Jane. Not...whippping posts. Okay?)