I wanted to take on a nom de plume for my erotic historical novels that had some meaning--at least to me. Some kind of sly, wink-wink allusion, since I didn't want to use my real name.

My first choice was Colleen Réage, which anyone who's read The Story of O will understand immediately...and for those of you who haven't, well, get thee to a library and snatch up a copy. Note the author's name, and then enjoy the read.

The Story of O influenced my erotic writing quite a bit, and that and the A. N. Roquelaure (aka Anne Rice) books really set me off. (Although, admittedly, before that I'd glommed all the Bertrice Small Skye O'Malley historicals, and had delved into Ordeal: The Story of Linda Lovelace.)

So, anyway, now that you know my influences, you'll have an idea of what to expect in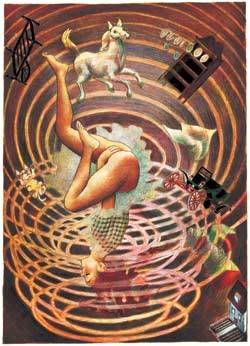 Unmasqued when it hits the shelves in August.

Anyway, I digress. (Get used to it. It happens a lot.)

My editor, much as I love her, didn't love my wink-wink choice of Colleen Réage, so she suggested I think of something else.

So I thought again and came up with Colette (as in the infamous Colette) as the first name. It was close enough to my real name that I might even 1) actually answer to it, and 2) remember what letters to write when I'm signing that name.

But for a last name...I was stumped.

Then about the time I had to actually give the final name to my editor, a long-awaited item arrived in the post. It's an adult comic book collection called Lost Girls, and it was created by the talented Alan Moore (The League of Extraordinary Gentlemen) and Melinda Gebbie.


The first installment of Lost Girls had come out in the format of a regular comic book about fifteen years ago, and I bought the original and then the next two editions. Then they stopped.

Now fifteen years later, the entire, complete collection, as planned, was released in a leather bound trilogy and in a slipcase. I'd ordered it three months earlier, and it finally arrived. And it was gorgeous.

What is Lost Girls, you ask? Get to the meat of the matter, Colette. (That was Jane, I'm sure. She's always concerned with meat.)

Anyway, Lost Girls is an erotic story about three women, grown up from the lost girls they were in children's literature: Wendy, from Peter Pan, Alice from Alice in Wonderland, and Dorothy Gale from The Wizard of Oz.


They're all grown up now, and they have different things from their youthful adventures that influence them as they explore their sexuality.

Alice has a laudanum addiction, and she has an intense fascination with a looking glass...Wendy and her husband have a very cool, reserved relationship, but their shadows are much more passionately involved...and Dorothy...well, she's a naive little girl from Kansas who becomes very experimental and daring in her sexual exploits. (Can't imagine why I chose her name, huh?)

It's an extremely well-done story--everything from the art to the themes and undercurrents is brilliant. I haven't read the whole three volumes yet; I've been savoring it. But I love it.

Anyway, that, my friends, is how I came up with my nom de plume.

Oh, and the contest winner of our Grand Unveiling Contest is:
SETON

Please post a comment with your email address so we can get in touch with you about your winnings (lucky devil!).